Huntington Bank Pavilion at Northerly Island | Chicago, Illinois
Get ready for the most amazing rave of the season! Chicago's most anticipated EDM music festival is back, and it's bringing big names to the stage for your enjoyment! The Heatwave Music Festival is here, featuring three of the world's most celebrated DJs, Gryffin, Slander, and Tiësto! These performers will take the stage and deliver a groundbreaking production that will easily be the most epic rave of the year! Fans can now have this experience by scoring the Sunday Pass, held on Sunday, 11th June 2023, at the Huntington Bank Pavilion at Northerly Island! Apart from these three headliners, the event will also feature a slew of incredible performers, such as French House powerhouse Malaa, A-Track B2B VNSSA, Alec Monopoly, Automhate, Coco & Breezy, Deorro, and Elephante. The festival will also feature top-rising stars in EDM, such as Kai Wachi, Kaivon, Kream, LUUDE, Noizu, Nostalgix, Avi Sic, Fiya Fly, and She's Haute! If you're ready to party all day this summer, then you should quickly grab your Sunday pass to experience this fantastic music fest in Chicago!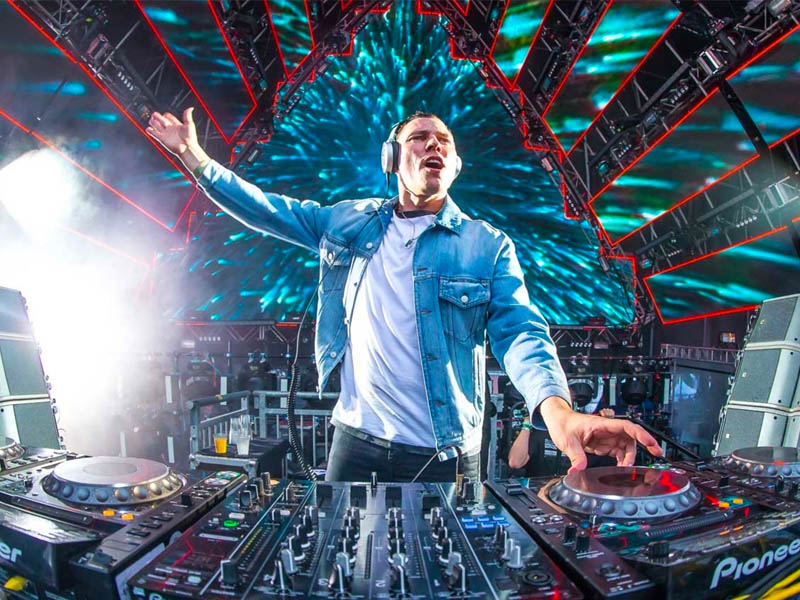 Dan Griffith or more popularly known as Gryffin, is a prolific DJ, songwriter, and music producer. His sensational remixes have brought him into the limelight. Some of his more beloved remixes include Maroon 5's "Animals" and Tove Lo's "Talking Body." in 2016, he dropped his debut single, "Heading Home," sung by singer Josef Salvat. The single entered Billboard's Hot Dance/Electronic Songs and Dance/Electronic Digital Songs, peaking at numbers 22 and 23. On Spotify, the song went straight to number 1 on the Viral 50 chart.
Gryffin released his collaboration single "Feed Good" with DJ Illenium and Daya the following year. The song, which was later certified platinum in the U.S., peaked at number 17 on the Hot Dance/Electronic Songs. In 2019, Gryffin debuted on the Billboard 200 upon releasing his first studio album, Gravity. The record entered the Top 100 of the chart and dominated the Top Dance Albums chart. The album released several hit singles, including "Remember" and "OMG," which topped the Dance Club songs. The album also spawned the platinum-selling single "Tie Me Down" and gold-certified hit "All You Need to Know." Last year, Gryffin released his sophomore effort, Alive, which peaked at number 3 on Billboard's Top Dance Albums chart.
American EDM duo SLANDER has been a staple among future bass fans. The pair, comprising former Frat mates Derek Andersen and Scott Land, has released several iconic tracks, including their breakout hit, "First Time," with Seven Lions, Dabin, and Dylan Matthew. In 2019, they co-produced Gryffin's hit single, "All You Need to Know." The same year, they released the chart-performing gold-certified single "Love is Gone" featuring Dylan Matthew. Last year, SLANDER self-released their latest EP, Thrive, which spawned the hit single, "Walk on Water."
World-renowned DJ Tijs Michiel Verwest, better known as Tiësto, is hailed as the "Godfather of EDM." in 2010, he was voted as the Greatest DJ of All Time by EDM publications, Mix magazine. Tiësto is responsible for incredible electronic music hits, such as "Traffic," "Red Lights," "In the Dark," "Feel It," "Wasted," "Jackie Chan," and "God is a Dancer." In the spring of 2023, Tiesto released his latest album, Drive, preceded by the chart-topping hit "The Motto" and the fan favorite "10:35" with Tate McRae.
Tiesto's exemplary music has earned him numerous accolades, including a Grammy Award, three Grammy Nominations, a World Music Award, an MTV Europe Music Award, and a DJ Award.
Catch these incredible performers on Sunday, 11th June 2023, at the Huntington Bank Pavilion at Northerly Island! Sunday passes to Heatwave Music Festival are now available!