Huntington Bank Pavilion at Northerly Island
Pretty sure you've cried to his lyric "I wish I were Heather…" off Conan Gray's 2020 hit single "Heather". Well, the guy's back at it again to let listeners all over the world hear his story and shed a tear or two to his confessional tracks off of his fresh sophomore album "Superache". With a big new era ahead of him, Conan Gray is set to kickstart his set of fall tour dates with a stop at Huntington Bank Pavilion at Northerly Island on Wednesday, 28th of September 2022. Catch him perform his hits, fan favorites, and fresh new tracks off of "Superache" live on stage by grabbing your tickets now!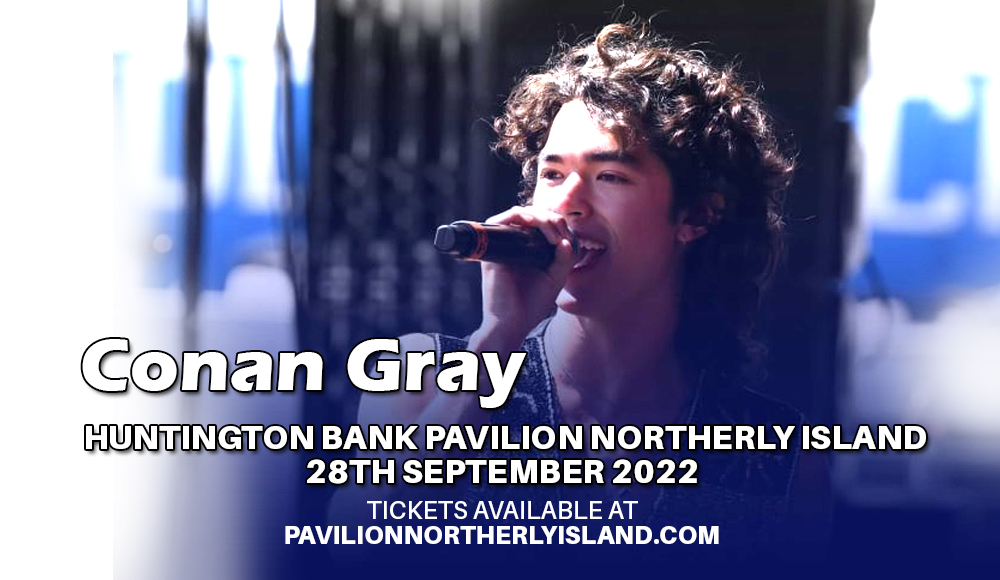 With music as an escape amidst life's challenges and heartaches, Conan Gray soon found the world listening and shedding a tear to his tracks that scream relatability through their raw and vulnerable striking lyrics. Hailed as pop's next big thing, Conan Gray's edge is found through his honesty and strength to tell the world his story through songs. With hits like "Maniac" and "Heather" that took the world by storm, listeners are given the chance to feel what they feel and find an escape with Conan Gray through his own craft.
After the success of his debut album "Kid Krow" in 2020, Gray's new record "Superache" continues the tale of how Gray went through life's challenges and obstacles. The album features his singles "Astronomy", "People Watching", "Jigsaw", "Memories", "Yours", and "Disaster".
Known for his vulnerable lyrics that hit right home, Conan Gray tells TexasMonthly – "I think people are generally pretty dismissive of having big emotions, especially as a kid. But I've always been this way. I had a lot to get off my chest at twelve years old. Writing music was the most normal way for me to express it."
It all started when Conan Gray decided to start a YouTube channel at age 15, showcasing his everyday life, and made use of the channel as some sort of a personal diary. He started posting covers and originals that the world would soon find, just like a gem. He self-released his debut single "Idle Town", amassing over fourteen million streams and twelve million views on Spotify and YouTube respectively. From then on, the world soon found themselves either head-banging or crying to Gray's songs that hit hard.
His notable singles and fan favorites include "Generation Why", "Checkmate", "Maniac", "Wish You Were Sober", "Heather", "Fake" with Lauv, and "Astronomy".
With "Superache" fresh off the shelves, big surprises are in store as Conan Gray brings the new album's era to life at Huntington Bank Pavilion at Northerly Island on September 28 as part of his fall tour.
"Touring is the moment where it becomes this massively healing process where I take these emotions that are so personal and so painful, and then I get to look out into a crowd of people who are furiously screaming every single word back to me." Conan tells TexasMonthly.
Get ready to scream every single word back to Conan Gray himself by booking your tickets now so you can save yourself a seat!