Huntington Bank Pavilion at Northerly Island
EVENT RESCHEDULED TO SATURDAY 16TH JULY 2022. Originally Friday 18th June 2021. All original tickets are still valid!
It's 5SoS! The teen heartthrob pop-rock band! Coming to Huntington Bank Pavilion at Northerly Island on Wednesday August 26th 2020! Merging pop-punk energy and ebullient boy band charisma, it's the 5 Seconds of Summer No Shame 2020 Tour! 5 Seconds of Summer burst onto the international music scene in the early 2010s, attracting fans with anthemic, hook-oriented songs and the fans have been loving it ever since, even though they underwent a major pop reinvention in 2018 with their third number one, YOUNGBLOOD, which debuted a refined electronic dance-pop vibe. This didn't dissuade fans, and you can still here the screams as they march out on stage from outside the arena!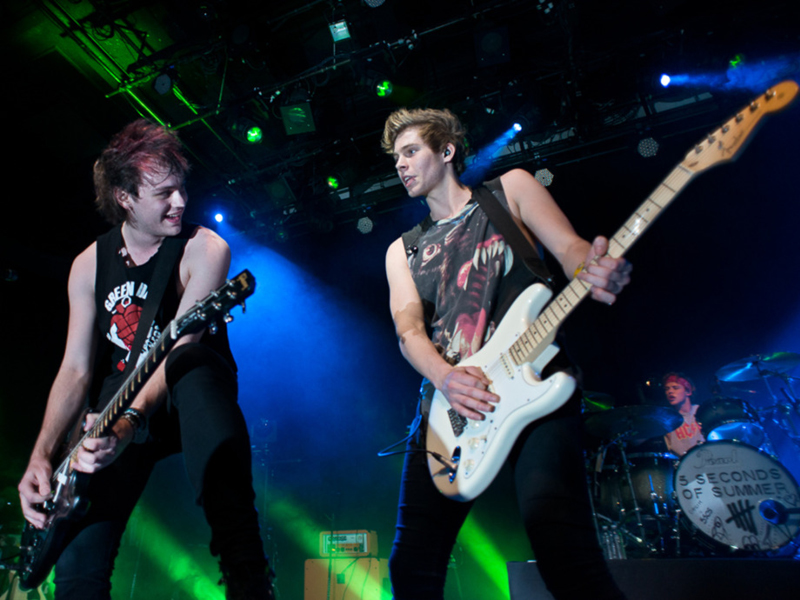 Formed in 2011, 5 Seconds of Summer features lead vocalist and rhythm guitarist Luke Hemmings, lead guitarist Michael Clifford, bassist Calum Hood, and drummer Ashton Irwin. They have three albums out, 5 Seconds of Summer (2014) which promptly hit number one on the charts of more than a dozen countries around the globe. Sounds Good Feels Good (2015) found the group collaborating on songs with Good Charlotte's Benji and Joel Madden, All-Time Low's Alex Gaskarth, the Monsters & the Strangerz, and others. Included were the songs "Permanent Vacation," which they had introduced while on tour, the lead single "She's Kinda Hot," and "Jet Black Heart." Upon its release, the album went to number one in the U.S., U.K., and Australia on the same day. Youngblood (2018) committing to a more sophisticated dance-pop sound that they'd hinted at on Sounds Good Feels Good. Bolstered by the hit singles "Want You Back" and "Youngblood," the album became the group's third consecutive full-length studio effort to hit number one on the Billboard 200. They have a fourth teased for this year… On 23 May 2019, they released the song "Easier" as the lead single from their upcoming fourth studio album. Its follow-up single, "Teeth", from Season 3 of the Netflix series 13 Reasons Why, was released on 21 August 2019.