Huntington Bank Pavilion at Northerly Island
R&B lovers, get ready for the fourth annual V103 Summer Block Party at the Huntington Bank Pavilion at Northerly Island!! The first of Huntington Bank's Block Party events will feature performances from Keith Sweat, Ne-Yo, Ja Rule, Ashanti and Tank – NO R&B fan can afford to miss it!! It's all happening live Saturday 14th July 2018 – get your tickets NOW for your chance to be there!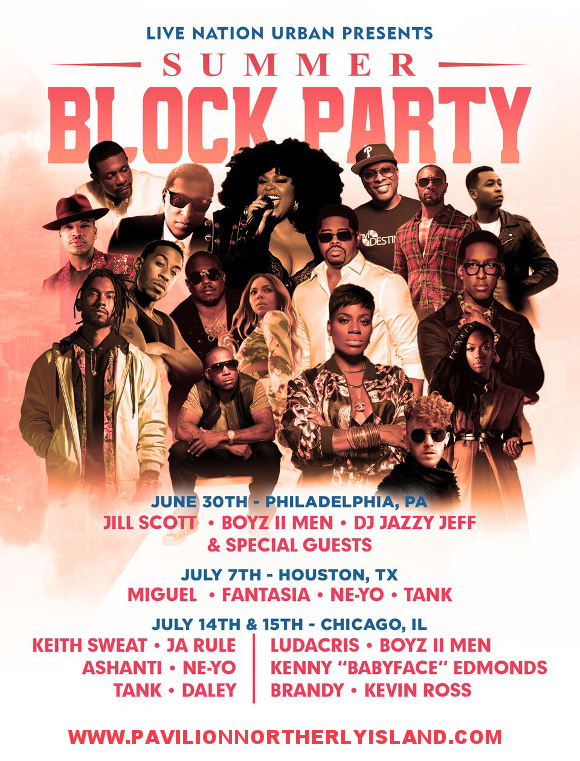 The V103 festival's goal aim is to provide a platform for both well-established and up-and-coming R&B artists to perform in a space specifically catering to the genre. "R&B music, along with hip-hop, has been indexing high on the streaming consumption charts for the past few years," Shawn Gee, the festival's president said. "However, there are very few live and radio platforms that specifically cater to the genre. Live Nation Urban's goal is to continue to expand this platform, so we can offer both emerging and superstar R&B artists the ability to showcase themselves in front of a large live audience across multiple key markets."
The festival includes a series of four dates across Chicago, Philadelphia, and Houston, with massive headlining names including Jill Scott, Miguel, Ludacris and Keith Sweat!! The Saturday July 14th's line-up includes Keith Sweat, Ne-Yo, Ja Rule, Ashanti and Tank.
Don't miss your chance to be part of the hottest R&B event of the summer – get your tickets to the V103 Summer Block Party NOW while you can!!