Huntington Bank Pavilion at Northerly Island | Chicago, Illinois
The acclaimed electronic-dance remixers, Two Friends, is celebrating a decade of Big Bootie Mixes that millions of EDM fans around the globe have raved to. Eli Sones and Matthew Halper are set to throw this year's biggest rave parties at Big Bootie Land, premiering their newest Big Bootie Mix Vol.23. As the second Big Bootie Land concert premiere, Two Friends is set to electrify the stage at Huntington Bank Pavilion at Northerly Island on Friday, 2nd of June 2023. Don't miss out on Vol.23's big debut in Chicago by booking your tickets now!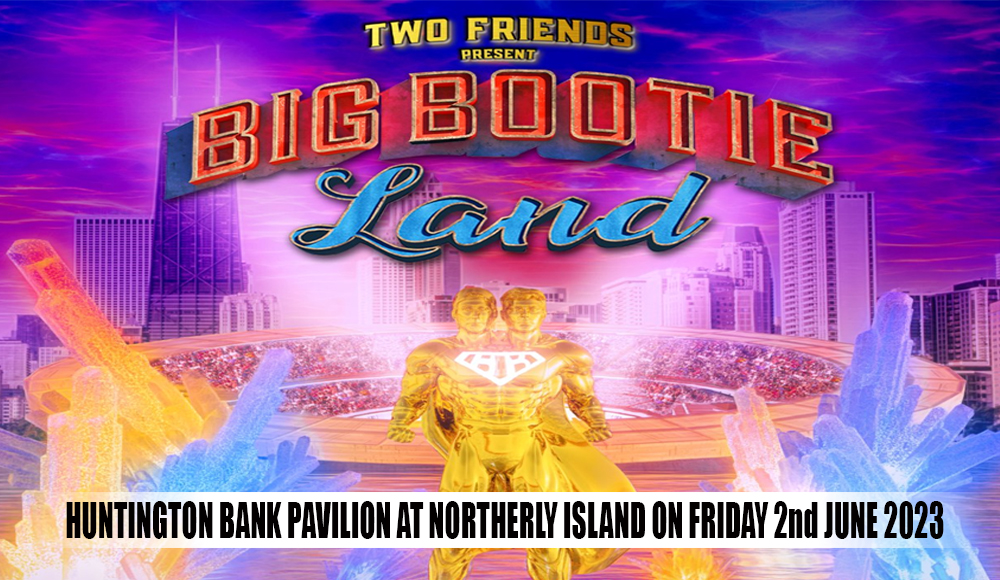 Two Friends rose to the scene for their acclaimed four-hour-long Big Bootie Mixes of today's biggest mainstream and EDM hits. The iconic duo is known for its hard-hitting EDM mixes and unique original party hits. As Sones and Halper hit the stage for the second installment of Big Bootie Land in Chicago, following a successful debut in Boston last fall, the duo released a new single "No Saving Us" featuring Saygrace, as the duo premieres Vol.23 of their acclaimed Big Bootie Mixes.
With their first song of the year making rounds in the airwaves, the duo is gearing up for their biggest party yet, looking forward to premiering their highly-anticipated bootie mixes. "Can't wait to lose our voices and do this one BIG together with y'all on the road" the duo tweeted.
Two Friends describes their music as "songs that are fun and get you dancing and moving, but also hopefully resonate with you on a more emotional level at the same time… [They are] kind of a melting pot of a lot of different elements and influences- whether from dance music, from pop, even from alternative rock or hip-hop."
Back in 2022, the duo released their hit single "Wish You Were Here" featuring John K. "I remember locking myself in the basement of my in-laws house and cutting vocals by myself for hours until I got it right," John K shared. ""Wish You Were Here" is a sweet, sad banger. There's pain and longing in the vocal and tempo in the track. Loved working with Matt and Eli and can't wait for everyone to hear this. When I saw the music video… I cried."
With a roster of originals and remixes home to the dancefloor, Two Friends' notable hits include "Sedated" and "Brighter" with Jeff Sontag, "Forever", "While We're Dreaming", and "Love Love" with Ferris. Sones and Halper are also notably known for their remixes of hits and classics including The Killers' "Mr. Brightside", The Chainsmokers' "Roses", Lana Del Rey's "Born to Die", and Blink 182's "All the Small Things".
Two Friends Eli Sones and Matthew Halper met in LA, forming the electric duo towards the end of their high school lives. They experimented with hip-hop beats, producing tracks for various up-and-coming rappers. After a musical awakening at Coachella, they started to take interest in the EDM genre. Together, they've amassed over twenty-seven #1 hits on Hype Machine and caught the attention of The Chainsmokers who shared that the duo is one of the most underrated artists in 2017.
As Two Friends gear up to premiere Big Bootie Mix Vol.23 at Big Bootie Land in Chicago, make sure to save your spots at the party by booking those tickets now!