Huntington Bank Pavilion at Northerly Island
Fans of punk in all its forms, get ready for the show of a lifetime!! That's right, Sublime With Rome, with incredible support from none other than The Offspring, will play at the Huntington Bank Pavilion at Northerly Island on Friday 8th September 2017!! Tickets are going to sell out super fast for this show, so don't delay in buying yours!!!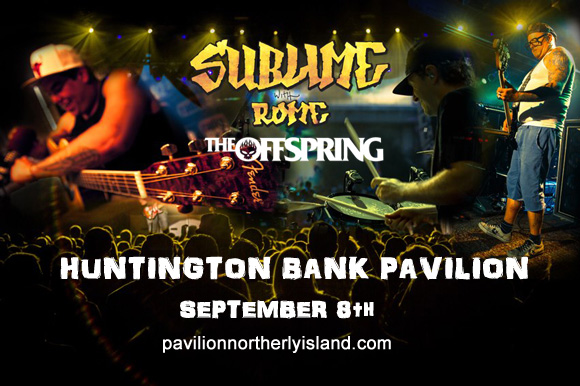 Formed in 1988, Sublime are one of one of the most well-known and influential ska punk bands of their time. Up until their breakup in 2009, they released a series of popular albums, achieving major commercial success in 1996 with their third album "Sublime,", which hit 13th place on the Billboard 200 and produced the No.1 hit single "What I Got"! The band sold in excess of over 17 million albums worldwide during the course of their career. In 2009, following the death of Bradley Nowell on vocals, the remaining members got back together with guitarist Rome Ramirez, and formed Sublime with Rome, keeping the original songs alive – as well as producing brand new material!!
Originally named Manic Subsidal, California-hailing The Offspring are credited alongside Green Day and Rancid for bringing new life to the punk rock genre in the 1990's. The band have released 9 albums in total, the first two earning them a cult following, with their fourth, "Smash," catapulting them into the mainstream. To date, the album has sold in excess of six million copies, certified 6xPlatinum by the RIAA!
Don't miss your chance to catch these two iconic punk acts live – book your tickets TODAY!!!