Huntington Bank Pavilion at Northerly Island
Phish comes to Huntington Bank Pavilion at Northerly Island on Saturday 15th July 2017 for the second night in a row! These infamous rockers are well known for their incredible live shows, which incorporate unbelievable lighting and visuals with feats of musical brilliance! Don't miss the unmissable!!!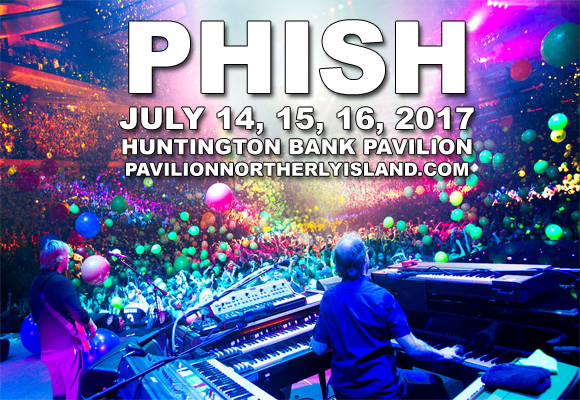 Pioneers of the jam-band movement, American rock band Phish formed in 1983 at the University of Vermont. The band has had a solid line-up since 1985 of founding members Trey Anastasio, Jeff Holdsworth (both guitarists) and drummer Jon Fishman, plus keyboard player Page McConnell ("Trey, Page, Mike, and Fish") that continues to this day. Making a name for themselves with their extensive, improvised jams and merging of genres, the band excels in a live setting, spending most of their time on the road and gaining a reputation for unexpected covers, exciting collaborations and audience interaction. The band has also had success with their recordings, having released thirteen studio albums to date. After 20 long years on the road, Phish took a hiatus in 2004, but reunited in 2009 and have been performing regularly ever since.