Huntington Bank Pavilion at Northerly Island
The incredible classic rock artist Peter Frampton comes to Huntington Bank Pavilion at Northerly Island on Sunday 28th July 2019 on Finale the Farewell Tour! The veteran performer, whose music career spans over more than 50 years, revealed that this will be his last tour due to being diagnosed with a degenerative muscle disease, but his swansong is bound to be an incredible one:
"We will be digging deep as well as doing the familiar and the needed ones for those who are coming. But we will be diving deep. I have no idea what the setlist will be yet, but it will definitely be different than the last couple of tours," says Frampton.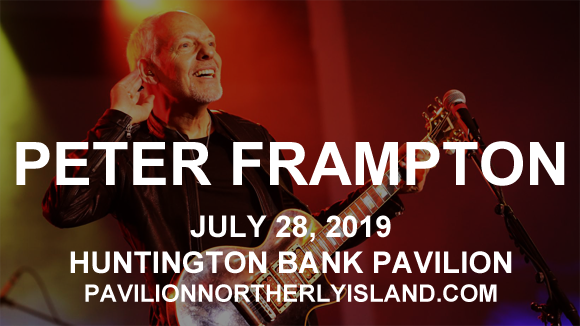 "Breaking All the Rules", "Show Me the Way", "Baby, I Love Your Way", "Do You Feel Like We Do", and "I'm in You" are just some of the hits that British-American rock singer, songwriter, producer, and guitarist Peter Frampton has had throughout his illustrious career. Frampton began as a child singer in the 1960s, before joining psychedelic rock band The Herd in 1966 (becoming a teen heartthrob in the process). In 1969, Frampton formed the rock band Humble Pie with Steve Marriott of Small Faces and he went on to release four studio albums and one live album with the group, before leaving in 1972 to pursue a solo career. Frampton's debut album, Winds of Change (1972), was a moderate success, but it was his 1976 live album Frampton Comes Alive! that brought him mainstream success, selling eight million copies and launching three hit singles. To date, he has released twenty albums as a solo artist, his most recent being 2016's Acoustic Classics.