Huntington Bank Pavilion at Northerly Island
Since the time she crooned 'come away with me', music lovers from all over the world were at her beck and call. It's been twenty years since. The sultry voice, the delicately soulful songs, and her enchanting presence linger…the Norah Jones effect is on! Norah Jones is back on the road this 2022 for her highly anticipated summer tour. At 22 tour dates are set, which includes a spot at the Huntington Bank Pavilion at Northerly Island on Friday 15th July 2022. As her 2021 live album release," 'Til We Meet Again", has been nominated for Best Traditional Pop Vocal Album at the 2022 Grammy Awards, it is a testament to the rich and inspiring music high that only Norah can give to her audiences. Norah Jones fans are now wrapped up in excitement to meet and experience the magic of such an amazing songstress. Don't miss it, book your tickets now!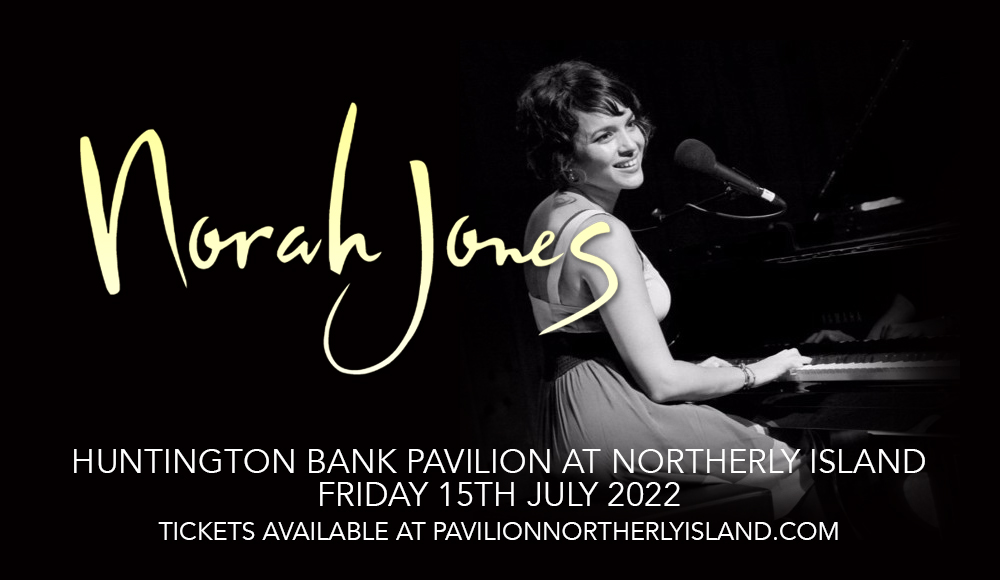 Her mystical and enchanting aura as a performer, singer, and songwriter may have come from her genes and music heredity; but Norah Jones has proved beyond all high expectations and naysayers that she is a star on her own right, a true musical force to reckon with. Born in New York in 1979, daughter of legendary Sitar performer and friend of The Beatles Ravi Shankar, Norah Jones took her family's heritage to the grind, initially working as a lounge singer. A&R execs at the Blue Note label who signed her saw her potential yet had misgivings about the direction of her music. "We let her find her own direction … We knew that if she could develop her songwriting and we could find great songs, it would work.", says Brian Bacchus, Blue Note's artists and repertoire agent (A&R).
Norah Jones came up with the album title track "Come Away with Me", which was a fusion of jazz with country, blues, folk and pop. The single burst into the music scene leaving audiences stunned and blown away with what they heard — a breath of fresh air the hit the jazz scene yet effortlessly flowed into the mainstream. In no time at all, the album was certified diamond seller, selling over 27 million copies, propelled by its top-charting singles "Come Away With Me" and "Don't Know Why". With these, Norah Jones was then reaping five Grammy Awards, including the Album of the Year, Record of the Year, and Best New Artist.
Norah Jones became a household name, the 'it' girl, with her subsequent studio albums—"Feels Like Home" (2004), "Not Too Late" (2007), and "The Fall" (2009)all achieving platinum status, selling over a million copies each. Norah Jones is now gearing up to mark the 20th anniversary of her debut album with the release of Come Away With Me: 20th Anniversary Super Deluxe Edition, an expanded 4-LP, 3-CD, and digital collection that reveals for the first time the full story of the making of the now-classic album.
Don't miss such an awe-inspiring, soul-good performance from the sultry songstress Norah Jones. Click 'Get Tickets' on this site to book your tickets right here, right now!