Huntington Bank Pavilion at Northerly Island
'Where the hell are my friends?! Well, Paul Klein and Jake Goss of the indie pop-rock sensation, LANY, are back to keep you company at the Summer Forever Tour, bringing the heat at Huntington Bank Pavilion at Northerly Island on Sunday, August 7th, 2022. Following their back-to-back album releases last 2020 and 2021 with the highly acclaimed "Mama's Boy" and "gg bb xx", LANY is set to embark on another round of meeting their fans, performing their best hits, and throwing big surprises at the Summer Forever Tour. Get ready to tell the guys 'I love you babe, so bad, so bad, oh' as they hit the stage. So, book your tickets now!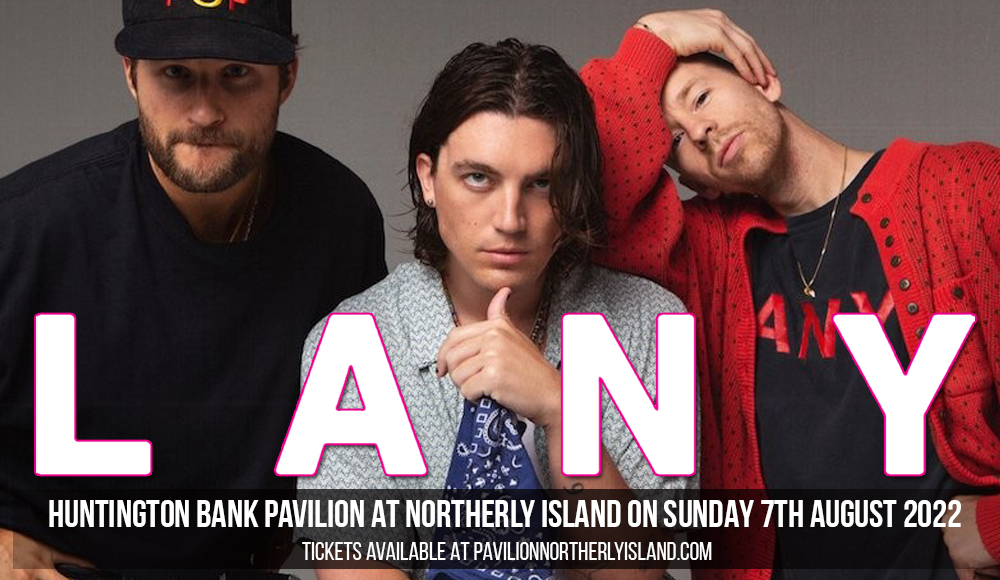 LANY hails from Nashville when Paul Jason Klein flew to the city to meet friends Jake Goss and now former band member Les Priest. Together they formed LANY and started uploading songs to a SoundCloud account with not one follower. Klein said in an interview that they received several emails from interested labels just within six days, wondering how they found their music. The release of "ILYSB" off of their debut EP "Acronyms" marked the beginning on LANY's domination in the indie pop-rock scene.
Though formed in Nashville, LANY stands for "Los Angeles New York". "We knew we wanted a four-letter word because of design and aesthetic purposes, but as you can imagine, all the four-letter words in the entire world are taken… I eventually thought of the span across the country from L.A. to New York, and at first I was thinking it would be L-A-N-Y, but people kept getting confused on how to pronounce it when I told them, saying things like 'L-A-and-Y?' So then we're like forget it—let's call ourselves LANY, pronounced Lay-Nee." said Klein.
They toured and opened for the likes of Ellie Goulding, Troye Sivan, Halsey, and John Mayer from 2015 through 2017. Their singles "ILYSB", "Good Girls", "13", "Super Far", among others, soon got stuck in listener's head across the globe, propelling LANY to reach a wider audience, embarking on a US headline tour, and played across Asia, Australia, and Europe. They released their self-titled debut full-length album in June of 2017.
As 2018 rose, LANY set foot on their first arena show in the Philippines that sold out in 24 hours, making them book another show in the arena. The following year, the band sold out three consecutive nights from July 23 to 25 in Manila.
Their second studio record, "Malibu Nights" was highly anticipated among their swiftly increasing fanbase. It featured heartfelt and vulnerable singles including "I Don't Wanna Love You Anymore", "Malibu Nights", and "Thru These Tears".
The indie-pop act next door served a refreshing sound to the landscape which quickly amassed the attention of listeners worldwide. Their captivating arrangements, synths, and vulnerable lyrics all gave earworms to fans across the globe.
They served 2020 with their highly-acclaimed album "Mama's Boy" hitting #7 on the Billboard 200 charts, featuring its singles "Cowboy in LA", "Good Guys", "If This Is the Last Time", and "You!". The year after, they dropped their fourth studio record "gg bb xx" with singles "Stupid Feelings" with 220 Kid and "Roll Over Baby" among others.
As refreshing their sound is, LANY is here keep making big waves and earworms for listeners whether near or 'super far. Catch them perform their best bops and fan favorites at the Summer Forever Tour. Book your tickets now!