Huntington Bank Pavilion at Northerly Island | Chicago, Illinois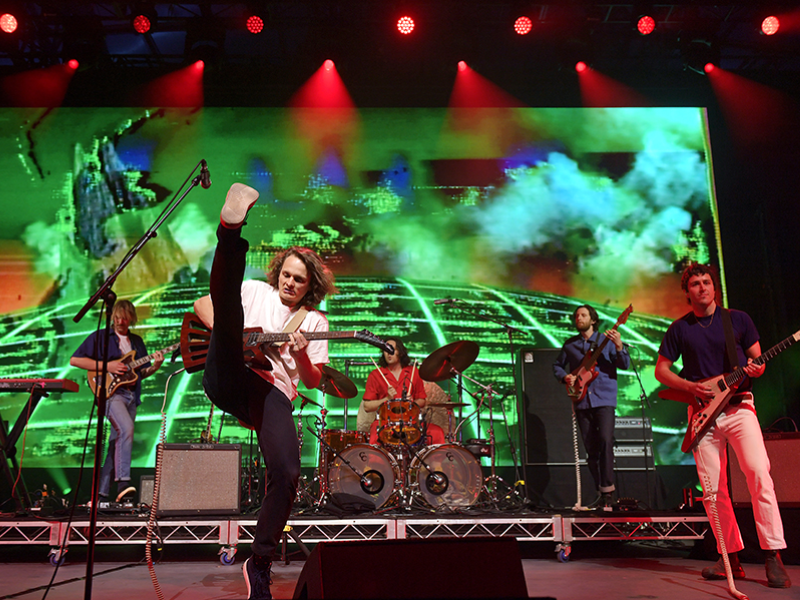 This Australian seven-piece is here to prove that alternative psychedelic rock is still alive and kicking! On September 1st of next year, King Gizzard & The Lizard Wizard is set to perform at the Huntington Bank Pavilion at Northerly Island! The upcoming event aims to promote their new and out-of-this-world album entitled "PetroDragonic Apocalypse, or Dawn of Eternal Night," with the announcement of their upcoming USA Tour. You might be familiar with this band from their scorching songs like "Head on/Pill," "Cellophane," and "The River." Chicago fans, beware! These guys are on a mission to bring their sickest tracks while showing their love for all of their listeners out in Illinois! Thanks to STG and Live Nation, these mega shows are a guaranteed party experience as the group promises three-hour marathon shows with no breaks for all the dates posted. Strike while they're still available, and score your tickets now!
Hailing from Australia, indie alternative band King Gizzard and the Lizard Wizard slides into the Huntington Bank Pavilion at Northerly Island on Sunday, September 1st, next year!
For more than a decade, their live presence has always been a huge part of their appeal. The album "I'm In Your Mind Fuzz" was critically acclaimed, being nominated for several honors, and was followed by records "Quarters!" and "Paper Mache Dream Balloon." The band currently holds two National Live Music Awards and eight Music Victoria Awards for varying categories.
"It cannot be overstated how badass it was to see Gizz come out dressed in drag to stand in solidarity with their fans against the bills, which, among other things, criminalized drag performances and banned age-appropriate, best practice gender-affirming care for trans youth. It was almost comical seeing them shred "Self-Immolate" and other heavy metal tunes under the Strawberry Moon clad in dresses."
Listeners can anticipate to hear songs from their most recent album, "PetroDragonic Apocalypse, or Dawn of Eternal Night: An Annihilation of Planet Earth and the Beginning of Merciless Damnation." Among the official members who contributed to this new album are Stu Mackenzie on lead guitar, Ambrose Kenny on vocals, Joey Walker on guitar, Michael Cavanagh on drums, Cook Craig on bass, and Lucas Harwood on lyrics.
KING GIZZARD AND THE LIZARD WIZARD SETLIST
Motor Spirit
Supercell
Converge
Witchcraft
Gila Monster
Dragon
Flamethrower
Dawn of Eternal Night
More dates for their tour are yet to be announced, so stay tuned for instant updates or refer to their official website for more information.
The Huntington Bank Pavilion is an outdoor theater located on the human-made peninsula of Northerly Island. The venue has secured its name as one of Chicago's premier live outdoor concert venues, presenting special events and popular acts that visit the area! This is the perfect place to enjoy the concert as audiences are met with the gorgeous views of the Chicago skyline complemented by the vast Lake Michigan.
Expect an intense Sunday night with your pals in this rocking event! Click the "Get Tickets" button above to secure your passes now!