Huntington Bank Pavilion at Northerly Island
EVENT RESCHEDULED TO THURSDAY 4TH AUGUST 2022. Originally Thursday 6th August 2071. All original tickets are still valid!
Here's your chance to slide into the smooth pop-alt-rock jams of the Goo Goo Dolls. Indeed, this multiplatinum alt-rock outfit is on the move and making their way to the Huntington Bank Pavilion at Northerly Island on Friday 7th August 2020; with yet another pop-rock icon Lifehouse, as guest artist. As they recently went viral with their timeless classic colossal hit single "Iris", 14 years after it topped the charts worldwide, the Goo Goo Dolls will not only have a mammoth attendance from their longtime loyal followers, but newfound fans will sure come packing in. Every minute counts. Go for the faster route to get tickets. Click that 'get tickets' link on this website now!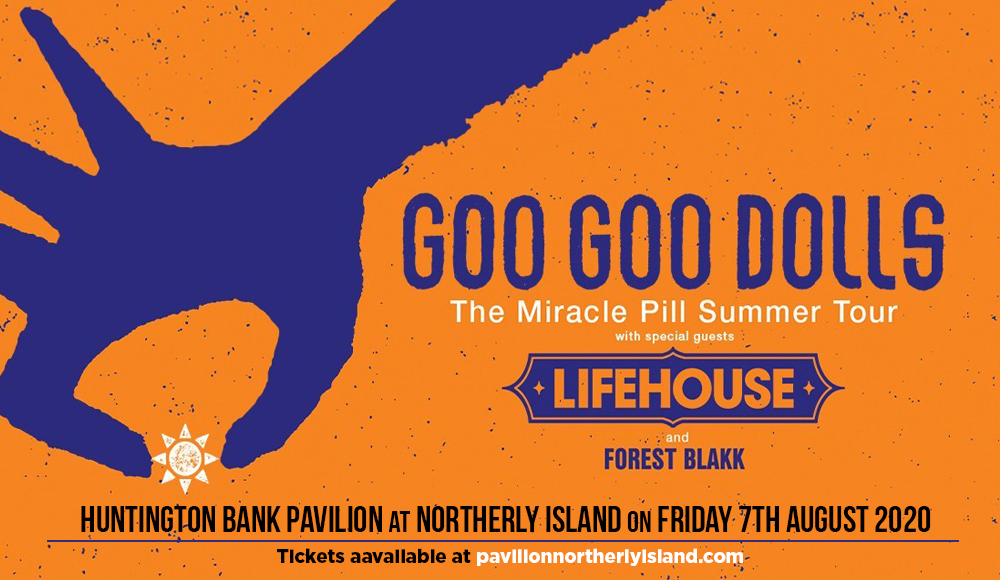 The Goo Goo Dolls redefined the meaning of 'timeless classic', as their iconic hit single "Iris" resurfaced in the digital space as a phenomenal viral content in various social media and music streaming platforms all over the world. "Iris" was written as the main movie theme song "City of Angels". In 1998, "Iris" stayed on top of Billboard Hot 100 Airplay charts for a record-breaking 18 weeks and spent 4 weeks at No. 1 on Billboard's Pop Songs chart. Later that year, it was nominated for three Grammys.
The Goo Goo Dolls have consistently invaded the charts with a roster of hit singles which include "Slide", "Name" and "Naked" from 1995's A Boy Named Goo; "Black Balloon", "Dizzy", and "Broadway" from 1998's Dizzy Up the Girl; "Here Is Gone" from 2002's Gutterflower, "Better Days", "Give a Little Bit", and "Stay with You" from 2006's Let Love In, and "Home" from 2010's Something for the Rest of Us. The Goo Goo Dolls has collected over 19 top ten singles on various charts, and have sold more than 12 million albums worldwide.
Out of all their achievements, the band has never thought of resting on their laurels as of yet. Their "Miracle Pill' tour is now in full swing, and they're still at the top of their game.
"We're putting together a really exciting show that will include the staples, new material, and a few curveballs," singer John Rzeznik tells Rolling Stone. "We can't wait to see all of our friends and fans we have made over the years and hopefully make some new friends this summer."
This is a sure-fire hit concert. A must-see! Book your tickets now!