Huntington Bank Pavilion at Northerly Island
There's no rest for the wicked, Dave Matthews & Tim Reynolds (frontman and lead guitarist, respectively), head out on an extensive tour together while the band takes a break from touring! These longtime friends and collaborators have a musical compatibility and rapport that is incredibly special, and they'll be coming to Firstmerit Bank Pavilion on Saturday 10th June 2017 for a night of intimate, acoustic music that will inspire and enthrall!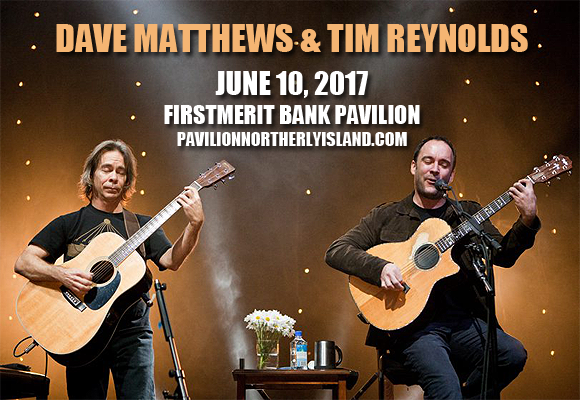 Multi-instrumentalist, solo artist and guitarist for the Dave Matthews Band, Tim Reynolds, plays a vast array of instruments, including: guitar, piano, sitar, drums, violin, bass, keyboards, ethnic percussive instruments, solo djembe, harp, uses drum machines for special effects, as well as singing, although he is primarily an instrumental rock musician. A founding member of TR3, he befriended local musician Dave Matthews when living in Charlottesville, Virginia, encouraging him to start his own band, which became the Dave Matthews Band. Although Reynolds initially declined the opportunity to join the Dave Matthews Band, he was involved in performing and recording with them regularly throughout their career, until becoming an official member in 2008.