Huntington Bank Pavilion at Northerly Island
Alternative rock fans, are you hyped for Beck?? That's right, the incomparable songwriter returns in 2019 with a massive co-headlining tour with none other than Cage The Elephant!! This is going to be something truly special – catch The Night Running tour live at the Huntington Bank Pavilion at Northerly Island on Wednesday 31st July 2019 by buying your tickets today!!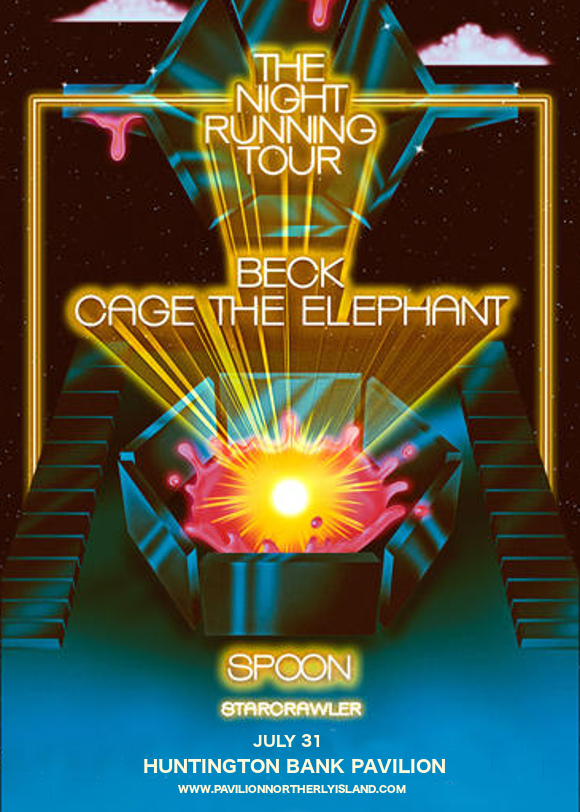 Over his incredible career, spanning near on three decades now, Beck's output has been virtually continuous. His latest album, "Colours," is his thirteenth. Some of the songs on "Colours," address Beck's feeling of insecurity and uncertainty regarding his longevity. "When you make music for a lot of years, there's sort of an expectation that you're going to go away. In popular music it's built in for people to come and go. There are points where you wonder if you're overstaying your welcome. It's not even insecurity; it's trying to be real with yourself. Maybe it's a common thing for musicians – at some point you wonder, do you get out of the way? When's the point when somebody taps you on the shoulder and goes, 'It's time to go home'?"
But his continued brilliance – the video for "Up All Night," the most recent from the album, earning him yet another nomination for a Grammy – just goes to show that he and his talent are not going anywhere except on tour!! Are you ready to see him and vibe to the new album live?? Tickets are selling out fast, so get yours while you can!