Huntington Bank Pavilion at Northerly Island
The Godfather of Shock Rock Alice Cooper, no less is inviting you once again to enter his nightmarish world of psycho-rock. The dark portals have been opened as Alice Cooper announced his return to the live stage with a headlining tour, featuring Kiss guitarist Ace Frehley as special guest. Catch them at the Huntington Bank Pavilion at Northerly Island on Friday 24th September 2021. With Alice Cooper showing no signs of slowing down, his fans have always been equally rabid about getting their hands on tickets to the show. You've got to act fast. Score those tickets now!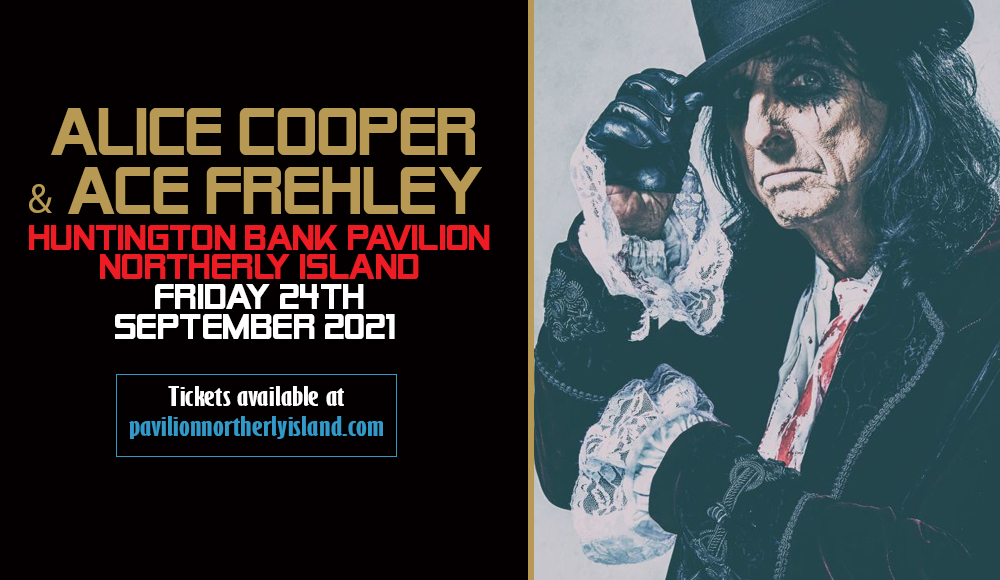 The picture of shock rock has, is, and always will be Alice Cooper. His concerts are always full-on rock-psycho mode as the stage is adorned with pyrotechnics, guillotines, electric chairs, fake blood, reptiles, baby dolls, dueling swords, and all the stuff scary theatrics are made of.
Alice Cooper once said "Welcome To My Nightmare", an invitation or perhaps an indoctrination into a world where Alice Cooper rattled cages, defied norms and conventions, and 'sticking it to the man'. Since then, Alice Cooper was hailed as "The Godfather of Shock Rock". His fearless approach in bringing together music and visuals credited him in being the "first [who] introduced horror imagery to rock and roll, and whose stagecraft and showmanship have permanently transformed the genre".
Alice Cooper's career spans over 50 years. His touring days are never far from over. In fact, it's 2021 and he's still headlining a tour and even taking Kiss guitarist Ace Frehley along for the ride as a special guest.
"We've always had fun touring together and it should be a heavy rock show with Ace and a great way to get everyone back to live concerts again," Cooper said in a statement. "It should be a great night of virtuoso guitars!"
In turn, Frehley shares the excitement, saying: "I've known Alice for over 30 years. We're good friends, and we've toured together numerous times and always had a blast. Our musical roots are very similar, and the combination of our two bands make for a great event that nobody is gonna want to miss. Being off the road for more than a year because of the pandemic has been tough on everyone in the music industry, and I'm really looking forward to seeing all of the fans happy, healthy, and ready to rock."
Be afraid, be very afraid if you still haven't got tickets. Tickets are on the move. Click on that 'Get Tickets' section on this site to book your tickets now!