Huntington Bank Pavilion at Northerly Island
After the success of last year's co-headlining stint, Steve Miller Band & Peter Frampton are teaming up once more to tour for the summer, coming to Huntington Bank Pavilion at Northerly Island on Thursday 14th June 2018! Multi-platinum-selling Grammy Award-winner Frampton had this to say about touring with Steve Miller Band:
"Having had such a fantastic tour together last summer, Steve and I decided to keep going this year. Jamming together each night during Steve's set is one of my favorite moments of the evening. Can't wait to get back out there."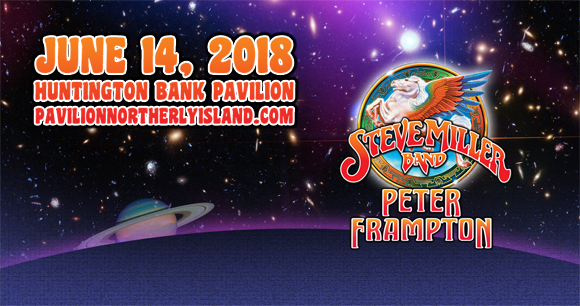 Originating as a psychedelic rock group in San Francisco, California in 1966, Steve Miller Band has sold over 60 million albums worldwide. The band's debut came two years later with the release of the album Children of the Future, but it wasn't until 1973 that the band would achieve mainstream success with the release of their classic rock-influenced album The Joker. Selling over one million copies, the album was certified platinum and launched the number one hit The Joker, which continues to be a radio staple today. The band had several other hits throughout the 1970s, including "Fly Like an Eagle", "Rock'n Me" and "Abracadabra". Still recording and touring regularly, the band has released eighteen studio albums, six live albums, seven (official) compilation albums, and at least twenty nine singles to date.