Huntington Bank Pavilion at Northerly Island
Calling all punks – it's time to get rowdy!!! This summer, Social Distortion and Flogging Molly have joined forces for a co-headlining summer tour that brings the noise to Huntington Bank Pavilion at Northerly Island on Saturday 7th September 2019! The two beloved punk bands will be joined by perfectly picked support act The Devil Makes Three for a night of non-stop nutty fun!
"We're excited to be heading out on the road with our friends Flogging Molly this summer," Social Distortion frontman Mike Ness shared with the press. "It's been a long time since we've played a show together and the first time since '92 that Social Distortion has done a co-headline tour. It's going to be a lot of fun and we're all looking forward to it."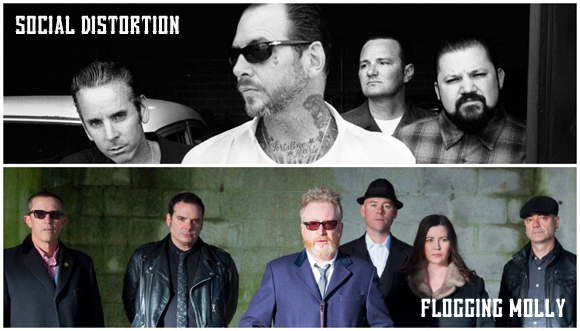 Formed in 1978 in Fullerton, California, Social Distortion is one of America's best-selling punk bands, with over three million records sold worldwide to date. The band made its debut in 1983 with the self-released album Mommy's Little Monster, followed by Prison Bound (1988), before signing their first major-label record deal – a three-album contract with Epic Records – in 1989. The following year, they released their self-titled major-label debut, which served as a breakthrough for the band, launching the singles "Ball and Chain", "Story of My Life", and the cover of Johnny Cash's "Ring of Fire". Throughout its 41 year career, Social Distortion has seen a variety of line-up changes, with lead vocalist and lead guitarist Mike Ness remaining the band's only constant member. To date, the group has released seven full-length studio albums, two compilations, one live album, and two DVDs, with an eighth studio album due this year.