Huntington Bank Pavilion at Northerly Island
Nothing beats negativity better than some piece of good news! Singer-songwriter Jason Mraz has found the best way to lift the spirits of his fans. All roads are now leading up to his "Look For The Good" tour — the much-awaited live concert show where Jason Mraz fans could finally bask in his sunlit tunes like "The Remedy (I Won't Worry)," "You And I Both," "Lucky," "I'm Yours," "93 Million Miles", "I Won't Give Up", and many more. Jason Mraz will make a stopover to this side of town and take over the center stage of the Huntington Bank Pavilion at Northerly Island on Wednesday 11th August 2021. This is one of the fast-selling shows with a hot demand for tickets. Worried about not being able to score one? Well, the remedy is (no pun intended) to get over to that 'Get Tickets' link on this site. Click to book your tickets now!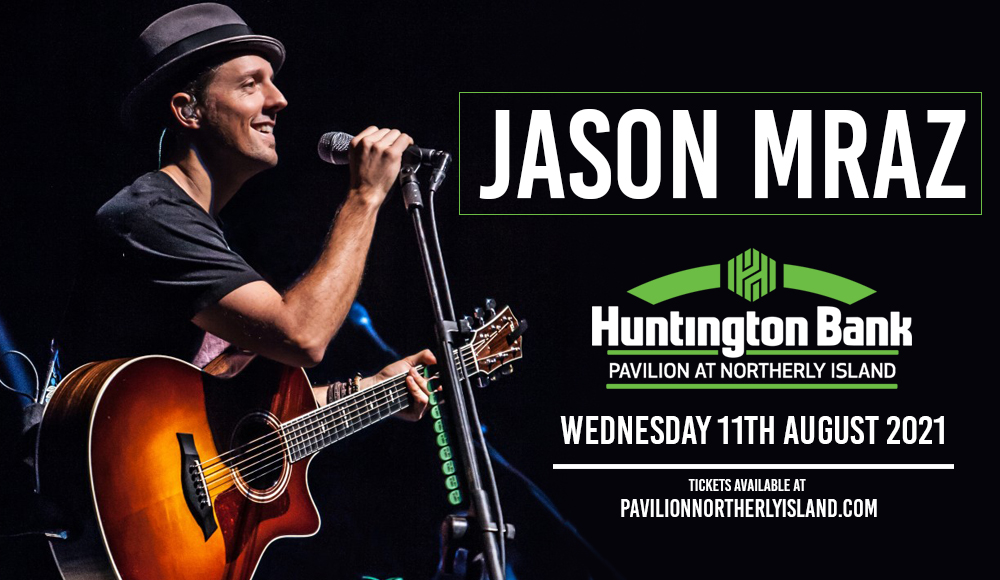 Singer-songwriter Jason Mraz's music resonates with a wide array of audiences. His acoustic guitar-driven melodies had their humble beginnings in coffeehouses where Mraz's songs are like freshly brewed espresso shots that could kickstart your day or a creamy latte for chilling and winding down for a nightcap. In 2002 he released his debut studio album entitled "Waiting for My Rocket to Come", which somehow prophesized that Mraz's career would sky-rocket to altitudinous heights. The lead single "The Remedy (I Won't Worry)" became his first top-40 hit in the US, reaching number 15 on the Billboard Hot 100. In 2005, his sophomore album "Mr. A-Z" was released peaking at number 5 on the Billboard 200. Jason Mraz was unstoppable and scaled greater heights with his third studio album, "We Sing. We Dance. We Steal Things" as it debuted at number 3 on the Billboard 200 and broke into the international scene with the commercial success of the hit single "I'm Yours". The song gave Mraz his first top ten single, peaking at number 6 on the Billboard Hot 100, and spending a then-record 76 weeks on the Hot 100, and was certified Diamond (10x Platinum) by the RIAA in 2019. His fourth album is his highest-charting album to date. "Love Is a Four Letter Word", peaked at number 2 on the Billboard 200 and spawning the lead single, "I Won't Give Up" which also charted in many parts of the world.
Jason Mraz is definitely still flying high and continues to make records and is always on the road to bring his music to his audience. "When we recorded Look For The Good, we knew we had created something special, something uplifting, that needed to be performed in front of live audiences," explained Mraz in a statement. "And then, right before our shows began, the world stopped. Like many artists we created quarantine concerts across the internet, but no matter how big the digital reach, it doesn't compare to being in the same room. We've been patiently waiting for this day: when the curtain goes up in Austin, it will be a celebration of life, with a new appreciation for live music, and in-person connections we've all been missing."
Looking for tickets to the show? No need to go far and wide. The "Get Tickets" sign on this website marks the spot where you can click and buy those Jason Mraz tickets to give you and your friends a priceless concert experience. Book your tickets now!