Huntington Bank Pavilion at Northerly Island
Transatlantic rock powerhouse Foreigner comes to Huntington Bank Pavilion at Northerly Island on Wednesday 11th July 2018 as part of their Juke Box Heroes Tour, which also features British legends Whitesnake, and Jason Bonham's Led Zeppelin Evening!
Says Jason Bonham, "Being part of Foreigner's 40th-anniversary tour last summer was wonderful. Opening a show like that was very special to me, so when Mick asked if I'd do it again in 2018, I said yes without hesitation. I'm excited that Whitesnake will be filling out the middle slot this time as I've known David since I was 14 years old. It's going to be a WHOLE LOTTA FUN!"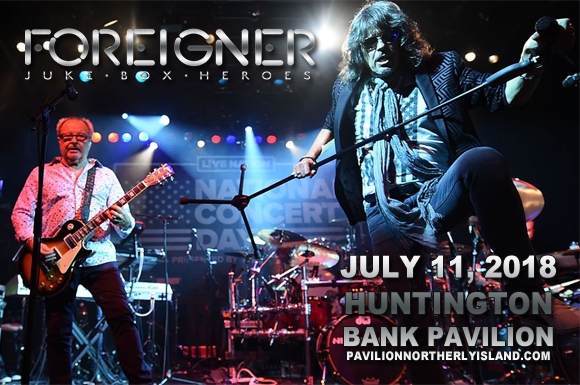 One of the world's best-selling bands of all time, Foreigner has released more than 10 multi-platinum records (with six consecutive multi-platinum albums released between 1977-1984) and 16 top 30 hits in the group's four-decade career. The British-American rock band was formed in New York in 1976 by Englishmen Mick Jones, Ian McDonald and the band's original drummer Dennis Elliott, and Americans Lou Gramm, Al Greenwood and Ed Gagliardi – the impetus for their band name came from this transatlantic collaboration. "I Want to Know What Love Is", their 1984 smash hit single, topped the charts on both sides of the pond, as well as becoming a hit internationally. Foreigner has had worldwide sales of more than 80 million records, including 37.5 million records in the US.