Huntington Bank Pavilion at Northerly Island
Metal fans, we've got some exciting news for you!! Prog metal giants Coheed And Cambria are teaming up with Mastodon this year for a show that will shake your world! That's right, Chicago, get ready to welcome The Unheavenly Skye Tour, with support from Every Time I Die and featuring Mastodon performing the entirety of their critically acclaimed "Crack The Skye," album live!! It's all happening at the Huntington Bank Pavilion at Northerly Island on Friday 14th June 2019 – be there!! Tickets on sale now and likely to sell out fast – grab 'em while you can!!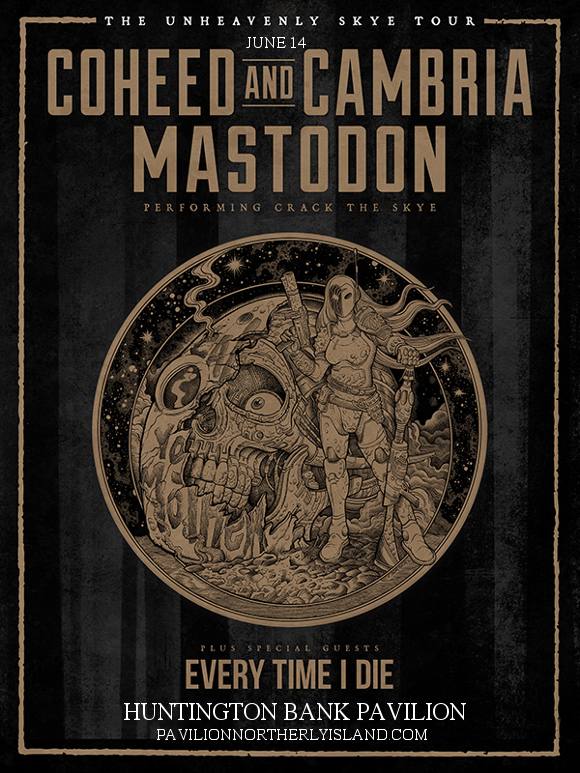 One extra special draw for this tour is Mastodon's promised full performance of their 2009 album "Crack The Skye," in celebration of the album's 10-year anniversary. "Crack The Skye," was a revolutionary album at the time of its release, with Clash stating that "no metal release of 2009 is likely to be as important as 'Crack The Skye.'" A new album is also in the works, with the band telling fans that they can expect to hear it around 2020, with the potential of new singles being released before then.
Coheed And Cambria, on the other hand, will be performing largely with their latest album, "Vaxis – Act I: The Unheavenly Creatures," another chapter in their Armory Wars concept fiction, a departure from their previous album "The Color Before The Sun," which was their first to deviate from the concept album theme.
There's something here for every fan. What are you waiting for?? Grab your tickets to see two of progressive metal's finest LIVE in concert – hit the "Buy Tickets," button NOW!!